Many acute and critical care clinicians performing comprehensive echo are lacking in formal reporting software. Whilst completing my BSE Adult Critical Care Echo accreditation I was rotating around multiple hospitals and had to manually perform many calculations and format a word document to accurately present the report for my logbook. This was exceptionally time consuming and tedious.
This reporting tool does not replace formal reporting software but aims to significantly speed up the process of writing formal reports.
Microsoft Excel is not the ideal software for this, but is widely available and functions on NHS/hospital trust computers. There are a few processes that need to be followed to create a professional looking report but these are quick and straight forward when familiar with the tool.
Key features (version 1.1):
Info sheet to input all patient information, demographics and characteristics. Also includes location to include cardiovascular and respiratory support information.
'Quick entry' form for commonly performed measurements to allow numbers to be inputted in a typical order performed during a minimum dataset study.
Normal reference ranges (based on updated British Society of Echocardiography guidance) that will automatically change based upon the patient age, sex, height and body surface area (BSA).
Pre-programmed formulae to automatically calculate all of the commonly required measurements for a formal study.
Summary boxes next to each category to allow reporting adjacent to the measured values.
Overall summary page to finish your report.
Customisable header in the critical care echo template to input whichever images/titles suit your needs.
Alternate template based upon the mandatory report format for the European Diploma of Echocardiography (EDEC, European Society of Intensive Care Medicine).
Method to export data into separate logbook.
Separate reporting sheet to retrieve data from a logbook in case original sheet is lost.
Instruction sheet for a quick reference.
This is freely available to all clinicians. Please drop a comment below if you have found this useful and if you have any advice for further inclusion/amendments. Please see the example reports and tutorial videos below.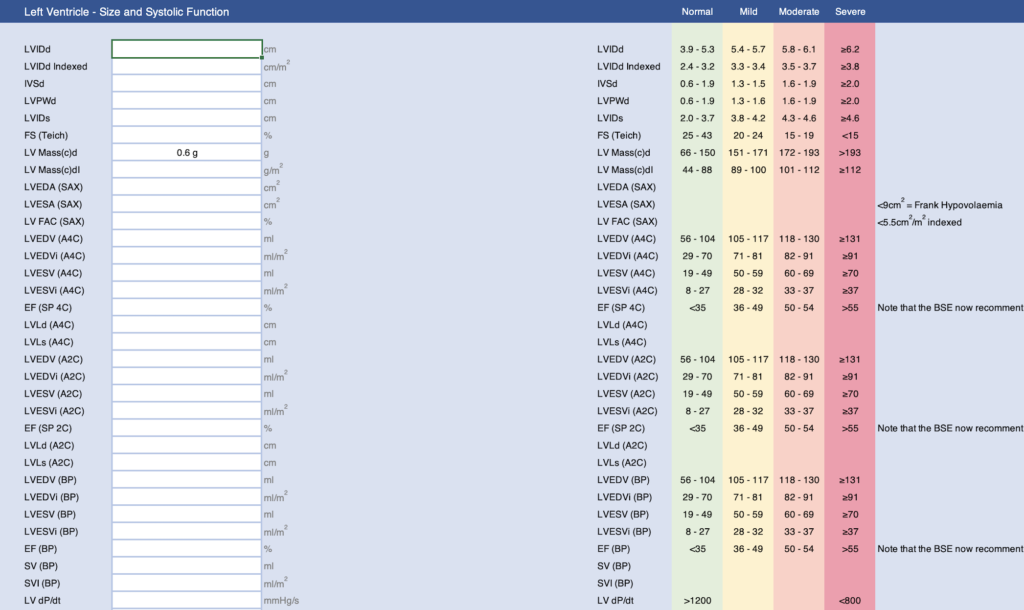 Screenshot showing LV size and systolic function categories with normal values. All calculations are performed automatically.
Normal values automatically change based upon patient age, sex, height and BSA
Example report generated using the reporting tool (anonymised).
Same report in the EDEC mandatory format (anonymised).