Back to accreditation.
---
Focused Acute Medicine Ultrasound (FAMUS) is an accreditation pathway endorsed by the Society for Acute Medicine. It is aimed at clinicians managing the acutely unwell medical patient and can be seen as the Acute Medicine equivalent of the FUSIC accreditation pathway.
A link to the FAMUS website is here.
The curriculum is split into separate blocks of training:
Ultrasound theory
Thoracic ultrasound
Abdominal/renal ultrasound
DVT/peripheral access
These modules may be completed individually based on the requirements of the clinician. Although sign off in each discipline will enable the practitioner to perform scans independently, 'FAMUS Accreditation' will only be awarded once all modules are completed.
A link to the curriculum pack is here.
The process for accreditation is similar to the Intensive Care Society pathways:
Register with the FAMUS administrator by submitting an application form including a fee – £50 for SAM members and £75 for non-SAM members.
Identify a mentor/supervisor. A link to the current supervisor list is here.
Theoretical training – completion of e-learning and a course.
Supervised scanning – a minimum number of directly supervised scans.
Mentored practice – completion of a logbook with images reviewed by a mentor.
Triggered assessments.
Theoretical Training
The FAMUS e-learning modules can be found on the e-lfh website. It is worth completing this prior to attending a course to solidify learning.
A link to the registered course list is here. The courses will provide a good basis for ultrasound knowledge and a chance to have direct feedback on scanning technique.
Supervised Scanning
A period of supervised scanning is typically required for accreditation pathways. The FAMUS curriculum mandates a minimum number of supervised scans in each discipline prior to the mentored practice.
Thoracic – 10 supervised scans (20 lungs)
Abdo/renal – 10 supervised scans
DVT/vascular – 5 supervised scans – does not specify whether 5 supervised scans need to be DVT or vascular.
Attended courses may offer to sign a certain number of supervised scans. This may be useful as one on one supervision is frequently the most challenging element to arrange.
Mentored Practice
After completing the minimum number of supervised scans the trainee can perform scans unsupervised to complete the logbook. Each scan will need to be reviewed by a mentor or supervisor and it is important not to make diagnostic decisions based on scans prior to completing accreditation.
The FAMUS curriculum specifies:
Minimum number of scans in each discipline
Minimum number of specific pathologies identified.
Minimum training time in each discipline.
The number of scans required is as follows:
Thoracic – 30 further scans (60 lungs) – including role out pneumothorax, increased lung water, consolidation and effusion.
Abdo/renal – 30 further scans – including abdominal free fluid, bladder distension and hydronephrosis.
DVT/vascular access – 5 further DVT scans (10 legs), 5 further vascular access scans.
The minimum number of specific pathological scans is outlined in the table below: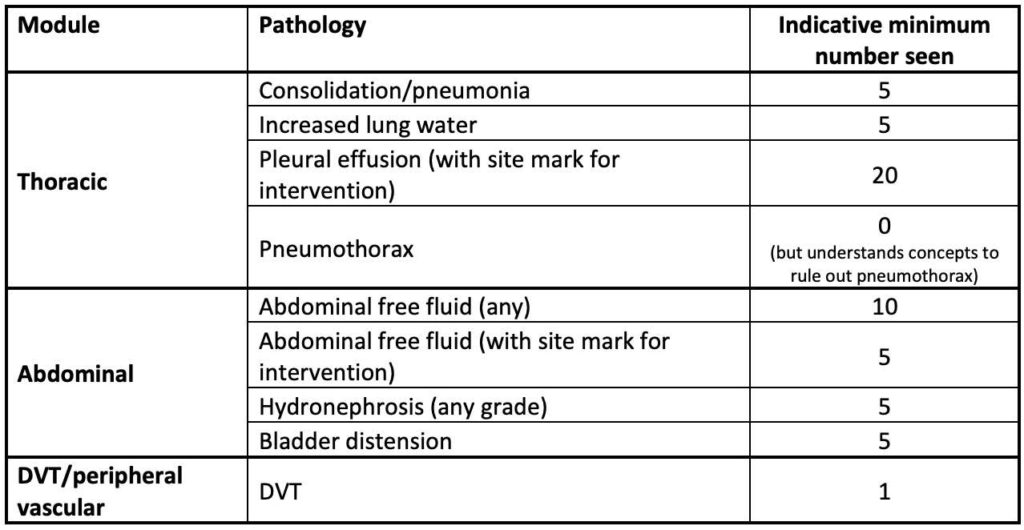 Minimum time duration for each:
Thoracic – 6 months from first supervised scan
Abdo/renal – 4 months from first supervised scan
Vascular – 1 month from first supervised scan
Each scan must be fully reported and stored as per local guidance. Using online platforms such as sonoclipshare can be useful to provide remote mentoring.
Triggered Assessment
Once the logbook is completed a triggered assessment (or 'Assessment of Completion of Training') can be performed. Sign off sheets can be found within the curriculum pack.
Reaccreditation
Accreditation lasts for 3 years. Scans should continue to be maintained in a logbook and FAMUS requires resubmission of a logbook every 3 years. The minimum number of scans to reaccredit are 20 thoracic, 20 abdo and 10 vascular.
FAMUS is a relatively new accreditation pathway and access to supervision may be limited. Due to the similarity to FUSIC it may be possible to request a FUSIC supervisor to also become a FAMUS supervisor.
The use of ultrasound in acute medical specialties is expanding rapidly and FAMUS provides a dedicated pathway for those wishing to complete accreditation.
This does not include any basic echocardiography and it is recommended that Focused Intensive Care Echo is also completed.